The FCC paper "Modelling of free fatty acid dynamics: insulin and nicotinic acid resistance under acute and chronic treatments" appeared on the cover of a prestigious journal in the field, Journal of Pharmacokinetics and Pharmacodynamics, Vol. 44, Issue 3.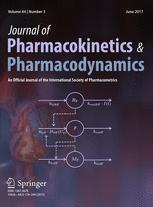 The paper was written as part of the IMPACT (Innovative Modelling for Pharmacological Advances through Collaborative Training) project, which has been an EU funded European Industrial Doctorate project within the Marie-Curie framework together with AstraZeneca, University of Warwick, and the Swedish University of Agricultural Sciences. Drug tolerance development and drug resistance are important contributors of attrition in drug development projects. In this paper, a comprehensive dynamical model has been developed of how free fatty acid levels in lean and fat rats are affected by different protocols for nicotinic acid administration. The model has been used to demonstrate the importance of the design of time-varying dosage to alleviate the build-up of tolerance to nicotinic acid over time observed for more naïve dosage protocols.
To read the full version of the article, please click here.