Efficient assembly solutions related to rigid parts are often determined early in the product realization phases with digital tools. However, these tools often fundamentally lack the technology to accurately simulate flexible parts. Examples of flexible parts in the automotive industry are air pipes, fuel pipes, electrical wires, and tubes on production equipment like robots. This lack of simulation capabilities engenders problems with, for example, cables being of an incorrect length and robot cables with an unacceptably short life time.
With IPS, the simulation of flexible structures is now a reality. The software minimizes the number of situations that need to be analyzed and validated with hardware prototypes and physical testing. In this way IPS is revolutionizing the virtual product design process as well as the production of assembled products.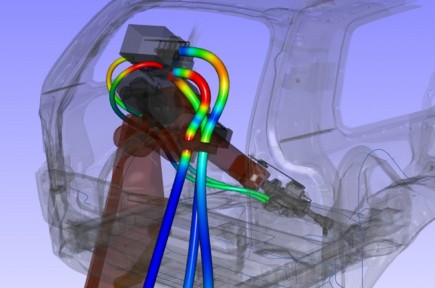 IPS Cable Simulation is a user-friendly, innovative tool for virtual assembly design as well as the verification and visualization of flexible parts. Its main capability is the real time calculation of the deformations of cables, hoses and wires of various material types and a variety of cross-section profiles. Forces and moments can be analyzed, the cable length can be optimized, clips can be attached, and motions can be evaluated.
The material properties include:
Stretching stiffness
Stiffness for bending around x and y axis
Torsion stiffness
Length density
The IPS Cable Simulation technology is based on 5 years of validated research at the geometry and motion planning group at FCC and the dynamics and durability group at Fraunhofer ITWM.