Mathematical modeling and simulation of what the body does to a drug after administration, such as its absorption, distribution, metabolism, and excretion, also known as pharmacokinetics, and models of what the drug does to the body, i.e., how the drug concentration is translated into a medical effect, also known as pharmacodynamics, are of increasing importance in drug development. The explanation is to be found in the promise of reduced costs and accelerated drug development due to better experimental design, improved understanding of results, and models of stronger predictive power.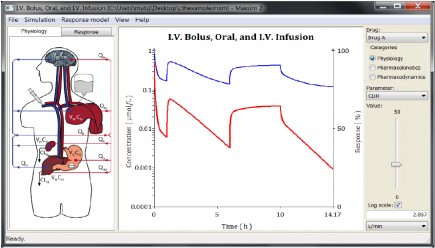 The aim of the Maxim2 project is to develop a software platform for simulation of the temporal behavior in pharmacological, pharmacodynamic, and pharmacokinetic processes. Pharmacokinetic models considered are so called compartment models as well as physiological flow models. Compartment models ranges from simple one compartment models with linear or nonlinear elimination to highly nonlinear target mediated drug disposition models whose qualitative behavior dramatically changes with dosage. This model type finds its application for example in studying biological compounds, where both target-receptor saturation and target-receptor complex elimination play important roles. The resulting software, developed within the Maxsim2 project is an easy to use, intuitive, and interactive application for pharmacokinetic and pharmacodynamic simulation. A gallery of common pharmacokinetic and pharmacodynamic models is provided by which one interacts with the model and runs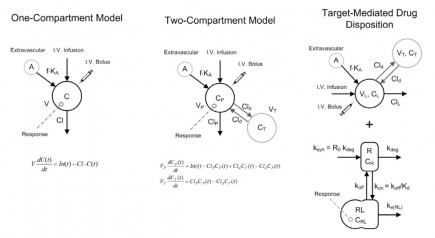 simulations using sliders, check boxes, and number fields. Parameters such as volumes, clearance, partition coefficients, pharmacodynamic parameters, and parameters related to absorption and dosage regimens can be changed, which in real time is mirrored by changes of concentration-time or response-time profiles. This interactivity and direct feedback of what-if scenarios give a good understanding of both the qualitative and quantitative impact of different parameters; an understanding which has a large impact both from a therapeutic perspective as well as health economics perspective. We envision Maxsim2 as an ideal application for both educational and commercial use where thorough understanding of pharmacodynamic and pharmacokinetic interplay is important. The targeted audience is professionals having working knowledge in pharmacokinetics and pharmacodynamics but limited or no experience in simulating such processes as well as students who want to gain experience in pharmacology from a systems perspective. For more information please visit www.maxsim2.com.