Environmentally friendly propulsion systems based on electricity and battery technology have led to dramatically increased usage of complex cables and hoses in the vehicles. For virtual product realization this means new and fundamental demands on the simulation to support design, assembly and maintenance activities. FCC has together with the dynamics and durability department at Fraunhofer-ITWM, Wingquist Laboratory at Chalmers, Saab Automobile, Volvo Cars, Opel, GM, Ford Motor Company, AB Volvo, and Delphi developed methods and algorithms packaged in the IPS software tool for accurate real time simulation of cables and hoses. More than 100 engineers are already using the software at these companies.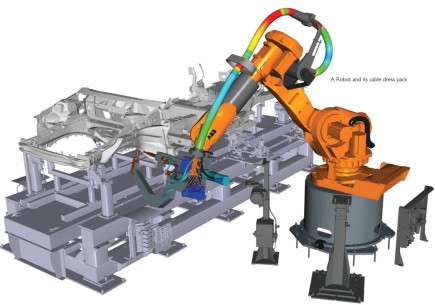 Today, many assembly problems that are detected too late in the product and production realization, involve cables, hoses and wiring harnesses. Studies in the automotive industry show approximately 25% of all quality problems are related to flexible parts and connecting tasks. For example, the assembly of high voltages cables and harnesses is tricky due to its concealed routing, connections, weight and awkward ergonomic postures. Many of the work-related injuries are caused by this type of assembly tasks. Furthermore the product quality output is to a large extent dependent on the design for assembly. One major reason for these problems has been the lack of virtual manufacturing tools supporting real time simulation of flexible parts and motions.
Industrial Applications and Needs
We cover four important application areas:
 Engine packing and design
Assembly planning
Wiring harness design and manufacturing
Robot cable dress packs.
Investigations by Opel, GM, Ford and Delphi point out this technology as a globally very competitive solution.