Despite that modern industries use virtual prototypes to replace physical prototypes, visualize assembly processes and program industrial robots off-line, the full potential of the virtual factory is not reached.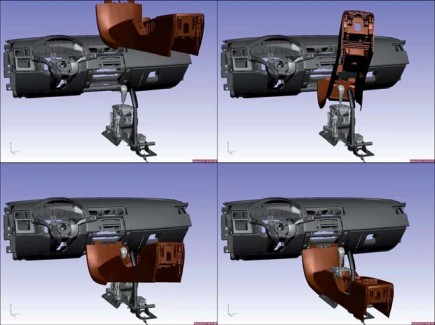 Details
The programming of motions and paths for robots and equipment is still done manually, since the existing support for automatic path planning is very limited. Another limitation is the geometrical accuracy between the virtual model and the physical reality. Therefore, geometrical tolerances need to be considered during path planning. This is a first step, going from nominal to production adapted virtual models and hence connecting the production loop including styling and manufacturability.
Virtual verification of products that can be assembled and later on disassembled for service purposes is an important part of geometry simulation in the manufacturing industry. Methods and software for automatically generating collision free assembly paths are therefore of great interest. Also, off-line programming of robots and coordinate measurement machines used in the factory lead to hard problems for the simulation engineer when trying to manually find collision free paths between points, while minimizing cycle time and joint wear.
Application areas
FCC operates to support the following path planning applications:
Assembly visualization/verification/design
Robot assisted assembly
Welding and sealing
Coordinate measurement machine
Load balancing, sequencing and coordination of robot operations.